Change is coming
At AN Games, it's been a dream to have Astronest: The Beginning become such a vibrant and active game. Since our launch in 2014, we've worked hard to add new features, fix bugs, add servers and so forth, and are proud to say we have tons more content to come. But we know we could have never done it without the immense loyalty you have shown us. So we would like to preface our 2.9.0 announcement by saying THANK YOU to you!
This new update is going to be huge. Tentatively scheduled for the end of October, we have a slew of new changes in store for you with 2.9.0, including:
Aesthetic changes, including a UI revamp and a new Tron menu
Combat-specific hero pulls with favorable stat distributions, and corresponding skills via the new S-Master class
A totally new hero rank called the Uniques, with a new Unique ability (third ability class)
Hero Codex and other goodies
We're very excited to announce these changes and hope you feel the same! At the same time.. we do know that a shakeup of this magnitude can be a bit scary as well. This is why we're taking the step to announce the update a bit earlier than usual, and also provide patch notes with specific details a day before the launch. More importantly, we promise to constantly tune and adapt these changes as we realize their effect on the game.
Please share your thoughts with us on our Fanpage. Now, without further ado, here's what's coming for 2.9.0.
A new way to recruit heroes
Recruit heroes with certainty
The Hero invitation system has been completely revamped and replaced with a new item called the Scout. Scouts have higher guaranteed hero ranks than the old Invites, and when used as a set of 10 they guarantee heroes of a certain quality.
This also brings with it a new class of hero called the S-Rank Master. Available from the Master Scout (and guaranteed when pulled as a 10-set), a S-Rank Master has the following attributes:
Guaranteed to be a Combat hero.
S-Master Heroes have excellent abilities and skills.
UI revamp and the CODEX
With a fresh coat of paint in our UI, eye-candy animations, and a newly organized menu system (including a Tron-specific menu), you'll find game navigation to be more intuitive, and easier on the eye.
We've also added the Hero CODEX for cataloging our seasonal and drop-event heroes, as well as the Uniques.
Note: Invites will be converted to Scouts upon Update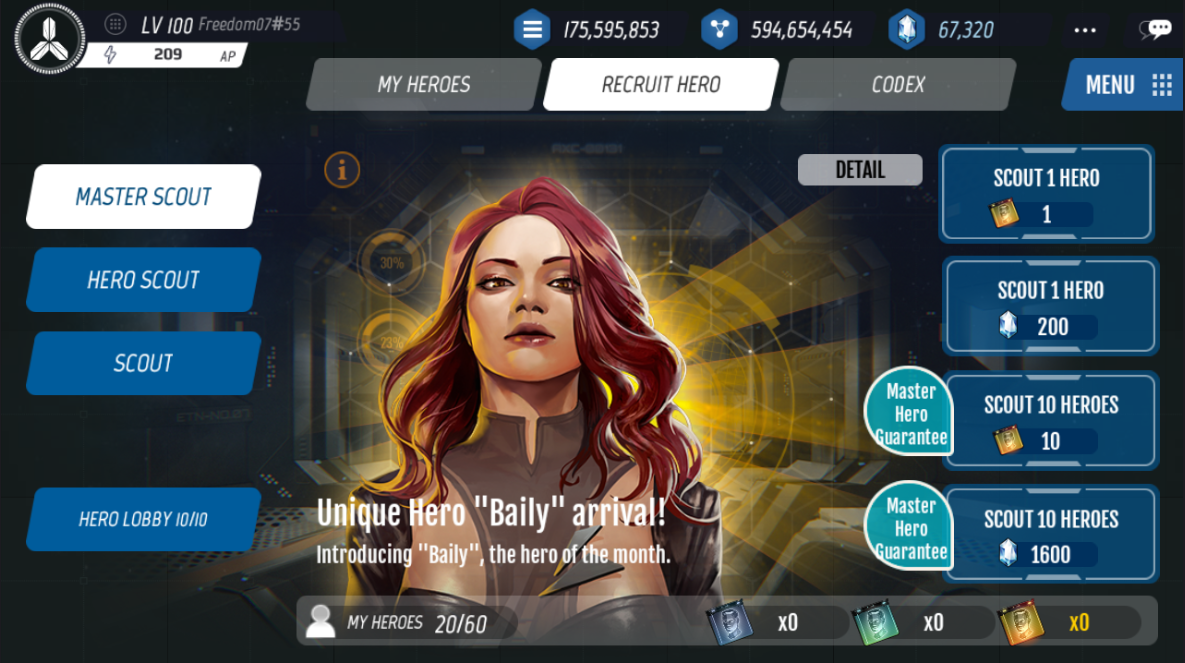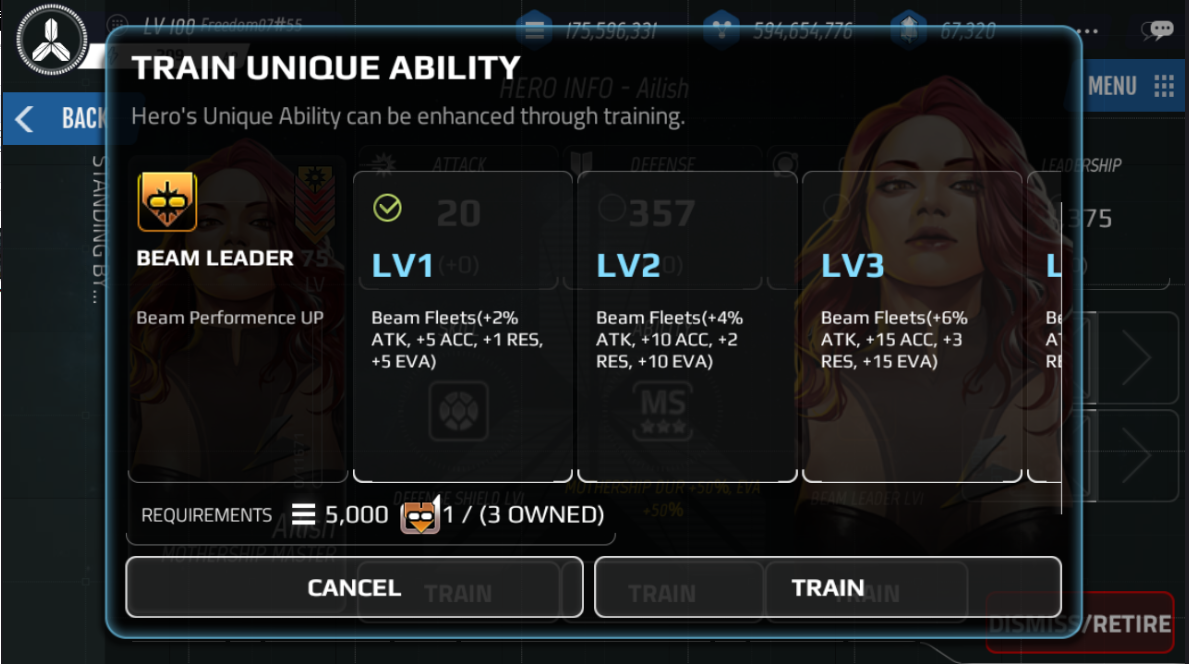 *Note: all numbers and prices in the screenshots are placeholders
The Unique hero is the first new hero rank to be introduced to Astronest: The Beginning. These heroes are designed to be rare, with custom artwork and skill concepts that are totally distinct, and will be introduced sequentially over an extended period of time. Please note that, when the 2.9.0 update first goes live, there will be only one Unique hero!
Unique heroes possess the following attributes:
Custom artwork
Strong stat distribution
A third class of ability (called the Unique ability)
Only one Unique hero can be fielded in battle at any time.
Unique heroes cannot be duplicated. Instead, duplicates will be automatically converted to LDs.
Conceptually, the Unique ability will provide buffs to the surrounding fleet or planets, depending if it is a Combat or Govern hero. Unique heroes can be found through the Master Scout.
Important Questions
What will happen to my current inventory of hero invites?
Hero Invites will be exchanged at a rate TBD, but the most valuable Invite, the S-Invite, will be exchanged at a rate of 1 to 1 with Mast Scouts.
What about my hero points?
Unfortunately, due to technical issues Hero Points will not be converted to Scout Tickets. We genuinely apologize for this huge inconvenience.
ETA: October 25th (UTC)
Like what you see? Have questions? Please discuss on our Facebook fanpage at facebook.com/astronest, or in our soon-to-renovated forums.
Thank you!
- AN Games